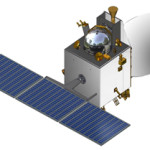 Mars Orbiter Mission is India's first Interplanetary Mission. Orbiter craft designed to orbit Mars in an elliptical orbit. The Mission is primarily technological mission considering the critical mission operations and stringent requirements on propulsion and other bus systems of spacecraft.
One of the main objectives of the first Indian mission to Mars is to develop the technologies required for design, planning, management and operations of an interplanetary mission.
Also ISRO(Indian Space Research Organisation) has chosen Trajectory of the probe which will be using earth gravity to help launch the Orbiter to the Mars orbit saving fuel as well as time.
One of the coolest thing ISRO have done is made a live status page of the mission by which any one can see the current status of the craft. You can check this out at http://www.isro.gov.in/mars/updates.aspx