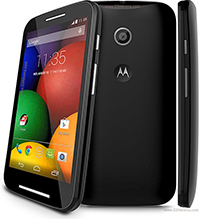 Motorola has launched another budget friendly phone and its quite cheap and good value for money.
Specs are:
Corning® Gorilla® Glass and a water-resistant splash guard.
High-resolution 4.3" display with 256ppi.
Qualcomm® Snapdragon™ 200 processor with up to 1.4GHz dual-core CPUs.
5MP rear-facing camera. MicroSD slot for up to 32GB.
Built-in FM radio.
Colorful interchangeable backs called Motorola Shells.
Exclusive available on www.flipkart.com
Updates:
There are only 2 drawbacks a) No front camera and b) No flash on back camera. Still you cannot complain on this price point.