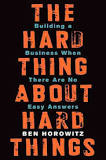 The Hard Thing About Hard Things written by Ben Horowitz is book on how to run your company with the honest challenges which you will face. Book is not like any other management book which paints a rosy picture of how to get things done and what are the good practice to follow in good times. Its how to take hard decision in time of crises which are more then often in any stage of any company.
In the book Ben discussion his time as a CEO of Public Ltd Company. Ben starts each section with a problems which he had faced while his tenure as CEO and then proposes solutions for the same.
Book is a easy to read and up to the point. You can easily read it in a weeks times. But the lesson learned will be valuable for life time. Its a one of the best crises management book, a must read.
Click here to buy the book now. Enjoy the book and do let me know your feedback in comments below.