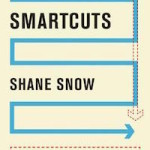 Smartcuts is a book focusing on how to use smart ways to climb to success. Its very easy to read book, with lots of real life examples, which makes this book fun to read.
In Smartcuts Shane talks about 9 principles which are:
1. Hacking the Ladder
2. Training with Masters
3. Rapid Feedback
4. Platforms
5. Catching Waves
6. Superconnecting
7. Momentum
8. Simplicity
9. 10x Thinking
Its worth a read. I am sure you all will love it. You can buy the book by clicking here.