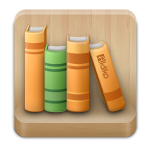 Aldiko is one of the best Book Reader for Android. Aldiko is so easy to use and you can import EPUB, PDF formats as well as Adobe DRM encrypted eBooks. There are many features like highlighting and adding notes which are really helpful while reading book. Also there is a day and night mode which makes readability easy.
I have read many books using this reader. Hope you enjoy it too.
You can download the app by clicking here.