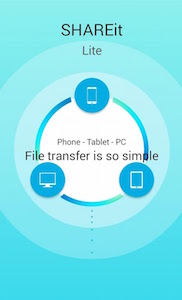 SHAREit is a Android app which uses Local Wifi to share files. You just need to install it on the 2 devices with which you want to share files. Make sure Wifi is on.
Few of the key features of SHAREit are:
* Share everything with other devices – pictures, videos, music files, documents, contacts…even apps!
* Devices with SHAREit can automatically find each other when in range.
* Transfer HUGE files and videos in seconds …up to 40x faster than Bluetooth®.
* Share without the need for Bluetooth, phone network or active Wi-Fi network…you don't pay a cent for network charges. Devices wirelessly connect directly.
* Even the app itself can be shared to other devices wirelessly, and rapid sharing can begin immediately.
* Supports group sharing – up to 5 devices simultaneously. Instantly share a party video, music album or photo library to up to five friends at once!
SHAREit supports not only Android phones,tablets, but also supports iPhone,iPad & even WIndows PC. It's a really cross-platform transmission tool!
You can download the App by clicking here from Google Play Store.