Some time you get a printout or a visiting card which you need to digitise, Google keep will help you achieve this in no time.
Google Keep has introduce new feature in which you can directly convert image into editable text. Open the note, you can add a photo in it, click on the photo (only then this option is visible) and then click the three dot overflow menu button. Pick "Grab image text" and the text from that image shows up below on that same note. The OCR engine needs an Internet connection to do its magic, but it works quite well.
Following are the step by step images: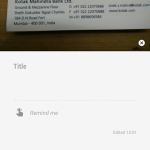 You can easily convert any visiting card in to a contact by using this feature of Keep and then copying the information as per your requirement in your contact.
For iOS (iphone) click here to install
For Android click here to install