Google I/O is one of the most awaited Developer Conference.
Google updates about what they have achieved in previous year and set tone for coming year. Which guides OEMs and developers which path to take. Also there are many Workshops and Session which help developer refine skill sets and learn new things.
This Year following were the highlights of the first day of Google I/O 2015
Android M new beta OS for Android following were the key features: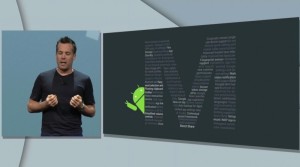 1. New App Permission – Android will ask permission as and when you use certain feature. Example if you use WhatsApp and click on voice chat at that time it will ask if you want to grant rights to the app for mic etc. Also It give use app level and device level control. More security and privacy for the user.
2. Web Experience – Chrome custom tab is introduce, so even if a user leave app by clicking on a link. App can control the look and feel of Chrome tab so it feels you are still in that app. By clicking back you go back to the app which called the tab.
3. App link – Now developers can set a default application to open when click on a link. Example if clicked on tweeter link it can directly open default tweeter app then ask user which app to open.
4. Mobile Payments – Android Pay was introduce which will make payment easier using NFC and finger print technology. Something like Apple.
5. Fingerprint Support – Standard API is created so all apps can take benefit of Fingerprint Security if device supports it.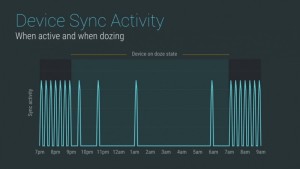 6. Power & Charging – Doze a new deep sleep feature is introduce which saves power where phone is ideal, example where you are sleeping. USB Type C support is inbuilt which will make transfer of files and charging faster
7. Many other features are added some of them are direct share built in on OS level, easy selection, copy and paste. Better  volume control etc.
Android Wear:  Updates about current status of Android Wear was given. New feature which will be introduce this year are Always on functionality, New gestures, New launcher helps in easier navigation, Voice input etc. The key thing to look forward will be battery life.
Internet of Things: Brillo and Weaver were announced. Brillo is minimal android stack which can be incorporated in any device like oven etc. Weaver is a communication API by which one device can communicate with other. And all this different type of device will be controlled by android phone/tablets. Sounds futuristic we need to see how it turns out.
Google Now on Tap: Now on Tap will be launched with Android M. It has taken Google Now feature one step ahead. Now you can access Google Now from any app and asked your query related to the context. Example if you are listening to a song you can inquire the artist real name. Now on Tap can read your context (SMS, email or any app message) and suggest you direction, reviews etc regarding the context without you doing much, just Hold on Home button to activate the feature. This is now coming closer in replacing Personal Assistants.
Google Photo: Google Photo is now not tagged along with Google+ any more as suspected long ago. Its a standalone app. It can backup near quality photo all for FREE on Google servers. It can be installed on Android, iOS and access from browser. For more you can check out https://photos.google.com/
Optimize product for slower connection: Google is thinking of those left out due to slower Internet connection in 3rd world countries. Hence its has optimized Chrome, Maps (can be made off-line and navigate off-line too) and YouTube (can be access offline).
Developer Tools: Android Studio 1.3 preview version is launched. Its faster then previous version and also support native C and C++ coding for gaming. Polymer 1.0 is released which helps app like experience to desktop and mobile browsers. Soon Google will launch Cloud Test Lab by which you can test your app on popular 20 android device on the web. Google Cloud Messaging can now send message not only to Android and chrome browser, but also iOS devices. Play Store will be updated by which you can experiment with various content and graphics to see which one attracts more users. Also family rating coming soon.
Google Cardboard: Google Cardboard VR version 2 is launched which supports larger phone and have less number of parts. The best thing was Exploration in which a full class of students can see a single destination together on VR. It feels like you are actually their. Also JUMP VR Video recording is launched which can help to take 3D videos, which then can be uploaded on YouTube and enjoyed (World of Harry Potter frames is coming soon ;))
There was update about Google Self driving car and Project Loon. What interested me the most was Now on Tap as it is coming close to AI and machine learning which Google says Deep layer learning in which they have reached 30 level. This self learning by machine is some thing future is holding us all.
You can check out the full video of Keynote below: