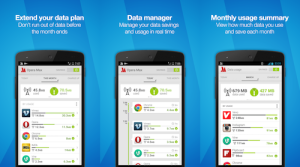 Opera Max is a application which once installed and activated on your mobile will put Opera Cloud in between your mobile and all the apps (including whatsapp, pininterest etc and browsers too). It manages to make the app much faster and also reduce the usage of bandwidth using Opera Cloud infrastructure.
Opera Max saves you data, extending your data plan and gives you unparalleled control over your phone's data consumption. This data-management & data-savings app saves 3G / 4G / LTE and Wi-Fi data usage by up to 50%. Save data by compressing videos, photos and media in your favorite apps and websites over mobile and Wi-Fi networks – without any noticeable loss of quality. Opera Max also helps to save battery and data by allowing you to block any apps running in the background without your knowledge. You can also use it as your Wi-Fi manager, for better control of what your apps do in the background when on Wi-Fi.
Its quite useful and its free download now from Google play Store by clicking here.