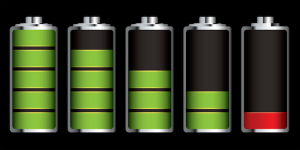 Smart phones did started a revolution on its own by giving almost a handy computer in your hands.  Now days only using a smart phone we can easily do 80% to 90% of our work and hardly feel need to use a computer (unless if you are creating content / coding etc).
But they also got us in a habit of charging the phone at least every day if not twice a day under heavy usage.
Next big leap will device which break this barrier of charging again and again. Now many people are willing to trade of few features in turn of better battery.
I am NEVER going to buy an Apple Watch or Moto 360 because 18hrs – 24hrs of battery life is unacceptable, or at least not very smart. Its better to buy device like Pebble smart watch which gives at least 10 days of battery life Or MiBand which is a fitness band which gives minimum of 30 days of battery life which is unheard of in todays time (hence its always sold out).
My focus now is to acquire things which don't force me to charge it everyday. Currently still waiting for a good smart phone to do the same. I don't need better screen display which hogs battery life and various other sensors which are always on, just need a smart phone which can goes on without charging for few days at least to start with. This will be the next killer product.