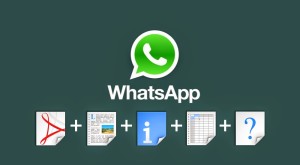 Sharing a file with your friends was never this easy!!! You could argue that there is WhatsApp already for this purpose, but WhatsApp restricts you to Media files (audio/video/pictures) only. What if you want to share a PDF/doc/zip/txt or ANY other type of file with your friends?
Here is File Share. Its rich set of features will bring a smile to your face:
It is EASY – you can share your files in just 2 clicks with anyone on your WhatsApp contact list (yes we use WhatsApp, but only to send the download link)
It is FLEXIBLE – the receiver need NOT have File Share app on his/her device as he/she receives the download link as a simple message on WhatsApp
It RETAINS your files – just like mails in you inbox are forever, the files you share will remain on cloud (but if you don't want them to stay on cloud you can choose to remove them)
File Share does not want you to be tied down with the app. That is why we have designed it so that the receiver is not forced to install this app in order to download the file. He/she just needs to be on WhatsApp (we will extend it soon to support more sharing options). We also want you to not go through the painful process of creating an email just to share a file. Hence, File Share. To be precise, File Share is 'Just-2-Click-Hassle' to share a file.