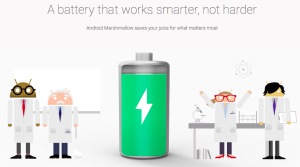 Android Marshmallow newer version of Android have include many features like new permission manager (like iPhones), better volume control, Google Now on Tap, memory manager and many more. One of the most impressive feature is Doze. Which improves battery life significantly by 15 to 20%. Doze is an intelligent battery management feature that recognizes when your device is not is use, like when it has been lying on a bedside table for a while, and enters hibernation.
Where other devices lose an average of 15-25 percent of battery life overnight, Marshmallow can take that down to 3-5 percent, taking your standby time to nearly two weeks in the process. So even if we forgot to plug the mobile at night with enough battery available, you will not lose battery life as much as you are losing as of now.
Currently Marshmallow is not available for all handset. Hence if you going to buy a new Android phone make sure either it has Marshmallow preloaded.