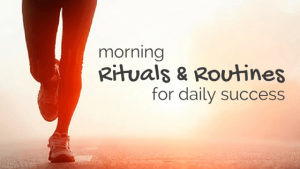 Morning rituals are the habit which you have formed knowingly or unknowingly like after waking up, first thing I do is check emails / whatsapp etc as  I pickup up phone to switch off the alarm. Morning rituals are one of the most important ingredient in anyone life, as it sets the tone of your day.  What you do in the morning or how you morning goes will define your day eg: If you wake up late and hurry things up to catch up lost time sleeping you will be forced to hurry up through out your day.
All successful personalities set their morning rituals. There should be a set routine to follow once you are awake. Morning routine should help you bring positivity in your life. The first thing to do is identify your current morning rituals. After that note down what you consider for yourself ideal morning routine for yourself. Write it down and keep it at a place where you are forced to see it once you are awake (eg: basin where you brush your teeth).
Morning is the best and fresh part of your day so try to capitalize on it as much as you can. Just to get started following is my ideal morning routine:
6:45 Wake up
6:55 Prayer / Yoga
7:15 Clear all clutter from email/whatsapp and note down thing I would like to achieve today
7:45 Exercise
8:00 breakfast
8:30 bath and getting ready for office
9:00 leave for office
Try to stick to your morning rituals as much as you can, that will bring stability in your life and will make you more focus and productive. Do let me know what do you think about my morning rituals and you are always welcome to share your thoughts or morning routines with me.