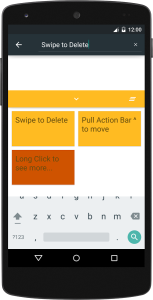 We all some time would love to keep few of the message remain in paste mode which are frequently used as a standard reply. Native Clipboard comes to rescue. You can have multiple clipboard which is easily accessible by double tapping any edit fields.
Best thing is its a open source project.
Native clip board provides easy and seamless access to anything you copied by simply double clicking the desired text field.Then choosing a clip will automatically paste it.
The clips can be :
• Swiped away to delete them.
• Long clicked to view the whole text.
• Pinned to prevent deleting (Using the 3-dot menu).
How to use
•Accessibility – Double tapping edit fields.
You can download it from Google Play.