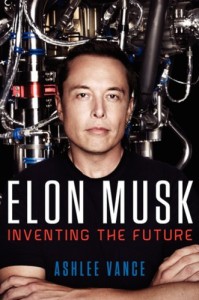 This is a book giving you insight in life of Elon Musk written by Ashlee Vance. Elon Musk was a cofounder of Paypal and is CEO of Space X and Tesla Motors and also own Solar City utility company. He is compared with Iron Man, as he closely resemble the super hero.
Its a kind of biography of Musk, in which there are high and lows of his life. Also it shows how he manages his company, how close he came to close both his companies and lose all his money.
Musk his a BIG thinker as he has achieved leadership in Space, Electric cars and Solar power industries. It is a good and easy read which will inspire you to also think big. Can be easily read in 7 days max.
Check out the book from Amazon by clicking here.