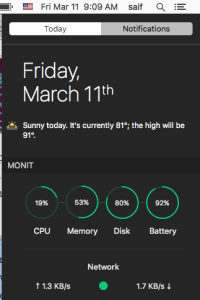 MONIT is a Notification Center widget for system monitor. With it, you can get a glimpse at some basic performance data on your Mac, including your CPU, memory, disk, network info, and battery usage levels. When you click on one of the options, you'll get a drop-down with more info. Monit is a free solution, it should do the trick for most people.
Best part about Monit is its not on your face type app still you can always access it from notification center when required.
Click here to download it from App Store.