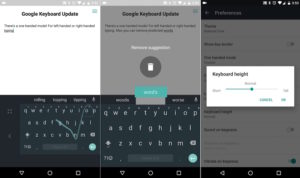 New google keyboard is a must have. Few of the features which are added are:
Option to show key border, no more holo themes
One-handed mode
Long-press for hinted symbols can be toggled
Adjustable keyboard height in settings (love it)
New first-run experience
Opt-in and a setting for sharing snippets with Google to improve the keyboard for everyone
Long-press and drag to remove suggestions from suggestion bar
Gesture Typing:

Dynamic floating preview removed (preview in suggestion bar now)
Delete whole words by sliding left from delete key
Gesture cursor control by sliding left/right on space bar

Faster access to numpad and emoji
One of the most impressive feature is you can slid on the space bar of the keyboard to move the cursor for better control.
We still dont know when it will be made live but you can download apk from here.