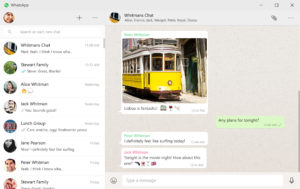 Like WhatsApp Web, desktop app is simply an extension of your phone: the app mirrors conversations and messages from your mobile device.
The new desktop app is available for Windows 8+ and Mac OS 10.9+ and is synced with WhatsApp on your mobile device. Because the app runs natively on your desktop, you'll have support for native desktop notifications, better keyboard shortcuts, and more.
To download the app, visit https://www.whatsapp.com/download from your desktop browser. Then, open the app and scan the QR code using the WhatsApp app on your phone (look for WhatsApp Web menu under Settings).
Just like WhatsApp Web, the new desktop app lets you message with friends and family while your phone stays in your pocket.
Best part is it's much more faster than WhatsApp for web and it doesn't slow down your browser. Try it out today, I am sure you will love it.