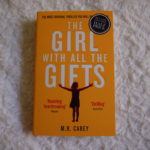 If you are looking for horror and traditional zombies, The Girl with All the Gifts might not be the book for you. But if you'd like something refreshing, moving and more character-driven.
I absolutely loved the build up of the story and throughout most of the book, I wanted to know what would be revealed next. I found this book to be intense and exciting and also endearing. And because the author made a huge effort to slowly reveal the storyline.
Soon a movie on this book will be released, but I don't think it will give the same thrill as this book gave.
I cannot say much about this novel without spoiling the fun of reading it. So if you have time do check it out. Get your copy today on a Kindle.
Interesting Quote from the book:
"And then like Pandora, opening the great big box of the world and not being afraid, not even caring whether what's inside is good or bad. Because it's both. Everything is always both. But you have to open it to find that out."