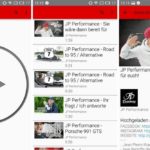 NewPipe is open source app which supports YouTube at the moment, it's designed to support many more streaming services. The plan is, that NewPipe will get such support by the version 2.0.
NewPipe has simple UI and the best feature I liked was playing youtube videos in background.
NewPipe does not use any Google framework libraries, or the YouTube API. It only parses the website in order to gain the information it needs. Therefore this app can be used on devices without Google Services installed. Also, you don't need a YouTube account to use NewPipe, and it's FLOSS.
Features
Search videos
Display general information about a video
Watch YouTube videos
Listen to YouTube videos (experimental .. run videos in background)
Select the streaming player to watch the video with
Download videos (experimental)
Download audio only (experimental)
Open a video in Kodi
Show Next/Related videos
Search YouTube in a specific language
You can directly download Version 0.8.0 by clicking here. Visit fdroid website for latest version.