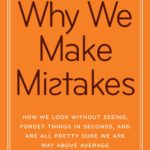 Why We Make Mistakes by Joseph T. Hallinan is a book in which author highlights how we can make mistake knowingly or unknowingly. Its a easy read can be completed in 3 to 5 days.
Following are take ways from the book:
Take notes on your mistakes, so you can learn from them.
Get a Devil's Advocate, even if you have to do it yourself.
Never do multitasking.
Have someone without your habits check for mistakes.
Get good sleep.
Happy people are smarter.
If you like such topics get your copy from amazon.