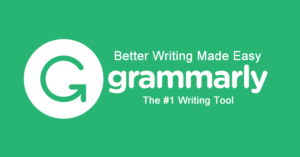 It is an Online proofreading tool that checks the text for grammar, punctuation, and style, and features a contextual spelling checker and plagiarism detector.
Built by linguists and language lovers, Grammarly's writing app finds and corrects hundreds of complex writing errors — so you don't have to. Millions of users worldwide trust Grammarly's free and premium products, which are also licensed by more than 600 leading universities and corporations
As you type, Grammarly checks your text against more than 250 advanced grammar rules. The checks include common grammatical errors, such as subject-verb agreement, article use, and modifier placement, in addition to contextual spelling mistakes, phonetic spelling mistakes, and irregular verb conjugations. Plus, Grammarly's spell check takes the context of your sentence into account. Grammarly also provides synonym suggestions to make your writing more readable and precise. With Grammarly, you can write online with confidence.
I am using this app for reviewing my post and critical emails, and it surely works. Check it out by yourself by visiting grammarly.com.