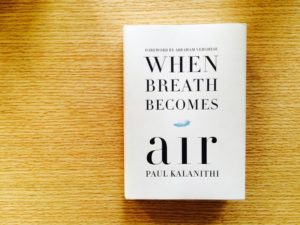 When Breath Becomes Air is a small book, but it's powerful can be read in max 1 or 2 days as you will not be at peace till you complete the book. It is about a neurosurgeon Paul Kalanith, who at the peak of this career was diagnosed with stage IV lung cancer. The transformation of a doctor to a patient is worth reading in itself.
I didn't shed any tears at the end of it, but I remember sitting there physically shaking and feeling really numb and tingly. A book has never impacted me that way before. It is about despair at one minute and full of hopes another.
Foreword by Dr. Abraham Verghese and an Epilogue by Kalanithi's wife, Lucy is very emotional and touching. I've seen the havoc cancer causes out of nowhere in people's lives. People very close to me. Your dreams and goals of not the one who gets cancer, but of everyone close to him changes forever.
I highly recommend reading it by anyone who might have lost their loved ones, or facing a serious illness like cancer and also to all the doctors.