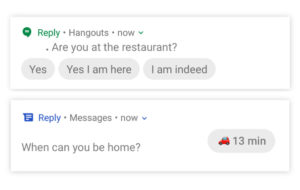 Google Reply app reads your notification and suggests an auto-reply. This app brings auto-reply function to any app, hence you get the smart reply feature of Gmail to any app installed on your phone.
Smart Replies are a boon to convenience and a privacy advocate's nightmare. It uses AI to know just the right response you might want to give and offers it up as a suggestion that you can simply tap on. Of course, it has resulted in some rather funny recommendations and conversations, but it has mostly "Just Worked".
I am using it for last few days and getting impressed by it every day.
You can try it by installing apk directly by clicking here.
PS: Currently Reply app is only available for Android.