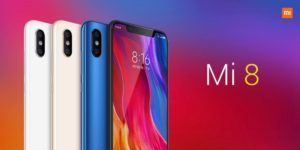 Xiaomi Mi 8 is the latest flagship phone launch in China a few weeks back. It is selling like hotcakes in China and there is availability problem in China itself.
Let's check out the Pros of this phone:
1. Super AMOLED screen is just gorgeous.
2. Snapdragon 845 with 3400 mAh battery can easily last thru one day of use.3. Dual-band GPS for accurate location.
4. Infrared face recognition for unlocking the device even in pitch darkness.
5. Quick Charge 4.0+ is very fast in recharging within 30 mins you can charge up to 45% of battery.
6. Great photos from both front and rear cameras.
7. Speaker is quite loud and clear.
And now it is the turns of Cons:
1. No headphone jack, Xiaomi is providing a USB C to headphone jack which helps in using normal headphones which you might have. Also, they provide a headphone with it.
2. No MicroSD slot, so keep this in mind when you are purchasing the phone.
3. No wireless charging even when the back is made of glass.
So here it is. I am using this phone from last 2 week and loving it. If Xiaomi launches the phone in India near 30K it will be a huge success. Let me know if you have any question regarding this phone in comments and I will try and get back.